Photo by Avi Werde Production from Usplash
Home is where we can relax and feel safe. It's where we spend most of our time. We feel comfortable moving around without giving it much thought as we go through motions of our daily routines. That is why as we get older and we experience changes in our balance and the way our body moves, it is easy to let our guard down and have a fall or accident. The National Institute of Aging reports that 6 out of 10 of all falls happen inside of our own homes (www.nia.nih.gov)! This is why it is good to be aware of the common risk factors and the safety tips we can use to reduce our chances of falling at home.
Falls – The Leading Cause of Injury in Seniors
According to the Center For Disease Control, falls in the home are the leading cause of injury or death in people over 65 and, more often than not, leads to a loss of independence for that person (www.cdc.gov).
Data shows that in 2018, 51 million older Americans experienced a fall, with 8 million sustaining injuries. It is projected that there will be 75 million falls per year in the U.S. by year 2030, with an estimated 12 million injuries (www.cdc.gov).
Hip fractures are an injury that is a growing public health concern. 90% of all hip fractures are caused by a fall (link.springer.com), as well as 51% of brain injuries (agsjournals.onlinelibrary.wiley.com). Other injuries can lead to lack of mobility and there is the chance that a fall can lead to a fatality (www.americashealthrankings.org).
How to Fall-Proof a Home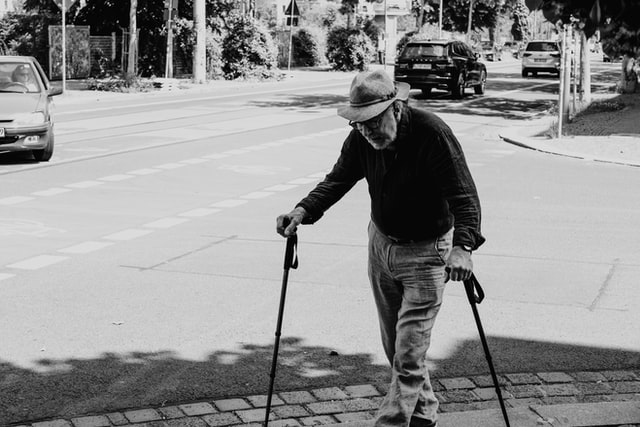 Photo by Miikka Luotio Production from Usplash
Front Entrance
Check steps and pathways leading up to do to make sure they are smooth and even with no cracks or wobbling.
Consider installing hand rails along the path and near the door.
Install motion sensor lights to help visibility at night.
If there is a doormat, make sure it is not in a place you could trip over it.
Stairways and Hallways
Install handrails along both sides of steps securely and use them when going up or down the stairs and use them. Always keep one hand on the handrail if carrying something up or down and don't let the load block the view of the stairs.
Have lights at each end of staircases and hallways and don't forget to use them.
Keep things picked up. Do not leave objects in walkways or on the stairs.
Make sure all carpet is firmly fixed to the floor with no chance of sliding or being tripped over.
Do not use small rugs and carpets as they can slip and be trip hazards.
Add colored tape to the top of stairs to help make the steps easier to see. Pick a color that stands out from the color of the stairs.
Add no-slip strips to tile, laminate, and wooden floors.
Kitchen
Keep frequently used items in easy reach in areas like lower shelves that do not require step stools.
Clean up spills immediately.
Use mats with heavy rubber backs in place of rugs that may be slippery or cause a trip hazard.
Bathroom
Add a non-slip mat inside the shower/tub and outside.
Install grab bars in the shower and near the toilet.
Use a shower chair and a hand held shower head.
Don't forget to use the night lights.
Bedroom
Install handrail near bed to aid in getting up.
Have a light close to the bed. Include a flashlight in case the power goes out.
Keep the floor and path to the bed clear.
Keep a phone near the bed.
Other Tips
Keep wires and chords out of walkways.
Make sure all rugs and carpets are securely attached to the floor.
Arrange furniture (with help) so nothing is in the walkway and needs to be walked around, like end tables and coffee tables.
Having furniture at the right height makes it easier to sit down and stand up.
Be aware of pets' location at all times so they do not become a trip hazard.
Get help changing light bulbs. Do not use a step stool or stand on chairs.
Do not walk on wet floors.
Wear shoes in the house or socks with non-slip bottoms.
Perform exercises to help improve and maintain balance.
Consider getting a fall alert device that is a bracelet or necklace.
Use a cane or walker if necessary.
Don't rush to answer the phone.
RELATED: How To Get Senior Care Transportation
Extra Safety Tips for Seniors at Home
Though falls are the greatest risk to older folks in their homes, there are some other risks that can be avoided or mitigated through awareness and taking preventative measures (www.healthinaging.org).
Fire Safety
Make sure smoke detectors and carbon monoxide detectors have fresh batteries twice a year.
Consider installing an automatic shut off on the stove. When it senses no activity after a certain amount of time it will automatically shut off the burner.
Don't wear loose clothing while cooking.
Replace appliances that are damaged or have frayed chords.
Don't plug too many things into one outlet or extension cord.
Don't leave candles lit in empty rooms, even for a short time.
Don't smoke in bed.
Don't leave space heaters on in an empty room and keep them away from anything that could catch on fire.
Do not try to put out a fire. Call 911
Medication Safety
Take medication in a well lit area.
Keep all meds in their original container to avoid mixups.
Ask for large print labels from your pharmacy.
Financial Safety
Never give personal information, such as social security numbers, account numbers, or passwords to someone over the phone.
It is a good idea to talk about purchases, signing contracts, or making donations with a family or friend beforehand, especially if the salesperson is soliciting over the phone or email.
Always get printed or written information about offers and prizes so they can be reviewed and fully understood.
Protect against robbery by keeping doors and windows locked and never letting strangers into the home when alone.
Hygiene Tips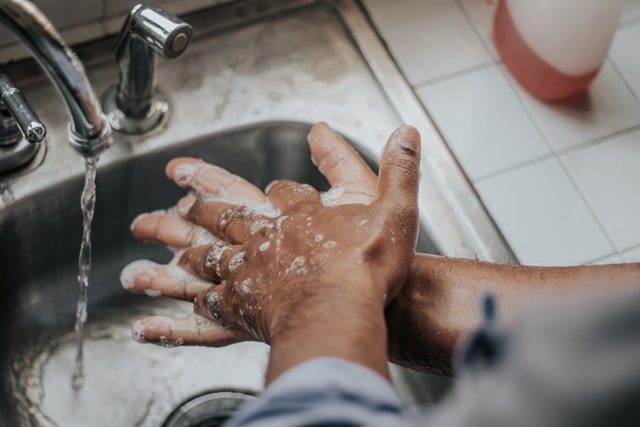 Photo by Mélissa Jeanty Production from Usplash
Frequently wash hands.
Avoid touching your face and mouth if possible.
Stay hydrated.
Eat healthy foods to boost the immune system.
Shower daily.
Get enough sleep. 6-8 hours is recommended.
Keep nails trimmed to prevent bacteria build up.
What to do if a Senior is Unable to Care for Themselves at Home
There is a lot we can do to make our homes safer but there may still come a time when we, or a loved one, can no longer go on living safely in the home. In these cases, we can assess the level of care that is needed and decide if hiring a care assistant to visit the home and help would meet our needs or if it is necessary to consider moving into an assisted living or senior living facility. These types of places will have the staff and resources give the extra care needed.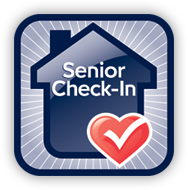 Contact Info
Address
14074 Trade Center Dr, STE 147
Fishers, IN 46038
Phone
855-420-1200
Inquire About Care or Ask a Question